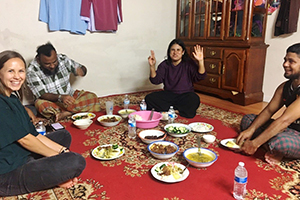 Is God calling you to the nations? Do you have a passion for spreading the gospel among the unreached, but wondering how to get started? Join us for an internship in one of our global cities laboring alongside long-term workers that are launching disciple making movements among Muslim, Hindu, and Buddhist people groups.
We strategically place you with a team that is incarnationally embedded with UPGs they are focused on reaching. There you will receive training and modeling on tools and strategies to help you be effective. Throughout the duration of your internship, you will receive mentorship and coaching from an experienced missionary along with a corporate gathering of the greater team and body that is focused on reaching UPGs locally and globally. You will also have opportunities to join us for our overseas trips as we disciple nationals in DMM principles and application.
What to Expect
Duration: 1-9 months (details worked out with each participant)
Participants have the opportunity to work a job or raise their financial support
Estimated Cost: Housing, transportation, food/misc typically range from $1,500–$2,500 per month depending on the city.
Tools you'll be in equipped in
Contextualized gospel tools
Holy Spirit's role in life and mission
How to launch disciple making movements
Battling in Spiritual Warfare Prayer
Casting Vision & calling others to join
Understanding worldviews of Muslims, Buddhists, and Hindus
Defining Kingdom values for success
Next Steps
Please complete the application. We will review your application and give contact you to set up an interview. After your interview, you will be notified if you are accepted to the ministry or not. If you need more information you can email: info@htmovement.com